projects
Channel Partner Ukraine
"Channel Partner Ukraine" is the first title for the channel "vendor-distributor-reseller- trader" in the ICT industry of Ukraine. The title is published in the partnership with British media-concern VNU and covers the all spectrum of problems rising in the process of product promotion from producer to end user. Newspaper materials consult the readers on different aspects of product and services sales - logistics, merchandising, creation and support of representative and partner network, loyalty marketing, customer relations management, financial flows management.
The news section containes the most complete information on all the partner, exhibition and PR-events of Ukrainian ICT-market held, key positions assignments as well as the actions in which the companies of this market take part. Analytic section containes reviews with state estimations and development forecasts for different market segments.
A special section presents the interviews with leading persons of ukrainian and world market of higher technologies, theory and practice of sales channel organization and working with partners by the examples and experience of home and foreign companies.
The unique for Ukraine system of digital identification of the materials published which is realized within the newspaper, allows the readers to get a fast and easy online access to electronic versions of additional materials for any topic, event, action or exhibition illustrated in the newspaper, company or personality mentioned, terminology or standard acts analysed within the newspaper. Electronic services "Event Calendar", "Newsline", "Companies and personalities", "Standard acts", "Press- releases", "Glossary" significantly expand every newspaper publication.
Unionization of printed and electronic data benefits creates a synergic effect and provides a reader with a unique for Ukrainian market informational tool corresponding to the growing requirements of today's and even tomorrow's life.
The readership of "Channel Partner Ukraine" - managers and employees of companies producing hardware and software, distributor, dealer, reseller and tarde companies, sales representatives and and managers, providing product tracking and cooperation with partners in the ukrainian segment of world market of information and telecommunication technologies.
Distribution:
address delivery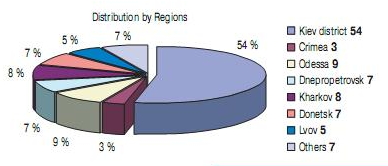 Format: B4 (230x325 cm)
Number of pages: 32 +
Circulation: 3000 copies
Frequency: biweekly
Advertising rates:
Page
Size
Price*
width, mm
height, mm
4-th cover
230
395
$5900
3-rd cover
230
395
$4700
2-nd cover
230
395
$5300
1-st cover
210
137
$6100
Advertising block






2 pages
460
325
$7400
1/1
210
284
$3600
3/4 vertical
156
284
$2900
horisontal
210
210


1/2 vertical
102
284
$2100
horisontal
210
137


1/4 vertical
102
137
$1300
horisontal
210
66


1/8 vertical
48
137
$800
horisontal
102
66


horisontal
210
32


*including all taxes
©2002-2018 Softpress, admin@softpress.kiev.ua