projects
All publications of hi-Tech PRO, hi-Tech Communication World and hi-Tech My Computer, which appeared within the month between disk editions, its owners can find on the disk in PDF format, protected from editing. Advertising materials are placed in one file with neighboring articles.
Customary on DVD, published by SoftPress:
software selections, including full versions of license programs;
continual program services, providing subscribers with anti-virus protection, mail client and latest releases of popular web-browsers, drivers, viewers, file-managers, archivers etc.;
catalogues of mobile phones, digital still cameras, notebooks and PDAs, accomOpanied by additional information, testing results etc. Besides the catalogues support devices selection by separate parameters, comparison of selected models, options of comparison tables printing, etc.;
multimedia, games, movie trailers;
all materials of "Tips&Tricks" section.
Pocket device fans are provided with special version of content, compiled for enabling its owner to view the description of programs, games, etc. Presented on the disk
hi-Tech DVD
Format: PC DVD
Volume: 4.7 GB or 9 GB
Circulation: 35 000 copies
Frequency: 12 issues a year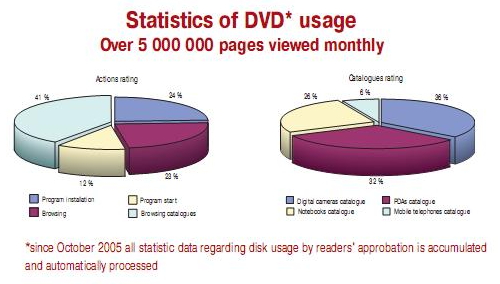 Advertising at hi-Tech DVD
Logo on disk surface — $1400*,
Disk flap in hi-Tech PRO magazine:

both sides placement — $1500*,
one side placement — $1000*.

A movie on the disk autorun up to 5MB — $1550*, over 5MB — plus $50*
Special position: advertising section (content provided by the client) — $900*.
Advertising product catalogue with appropriate line in the main menu:

nonrecurring costs for catalogue generation — $980*
one position enry — $10*

Information materials placement — $45*/MB
Placement
Approximate
number of visits
Banner
Price*, $
All disk browser pages
(except the catalogues)
2 500 000
Top 655х100

2000
Top 468х60

1800
Bottom 655х100

1700
Bottom 468х60
1500
Browser start page
700 000
Top 655х100

800
Top 468х60

700
Bottom 655х100

600
Bottom 468х60
500
hi-Tech section
and all pages inside
300 000
Top 655х100

400
Top 468х60

350
Bottom 655х100

300
Bottom 468х60
250
«Resources» section
and all pages inside
1 100 000
Top 655х100

1200
Top 468х60

1000
Bottom 655х100

900
Bottom 468х60
700
«Info» section
and all pages inside
400 000
Top 655х100

450

Top 468х60

400
Bottom 655х100

350
Bottom 468х60
300

* $, all taxes included


©2002-2018 Softpress, admin@softpress.kiev.ua