projects
Read&Subscribe!
All about the printed media of Ukraine
Target audience:
1.Wide range of periodic issues subscribers: private and corporate clients (potential, as well).
2. Directors of subscription offices, "The Press" and "Ukrpost" national post and press organizations. Employees of post offices Ukraine-wide.
3. Publishing houses, operating on Ukrainian periodic press market.
4. Subscription agencies.
Stimulation and popularization of subscription via "The Press" and its partners. "Read and subscribe!" newspaper is delivered freely in every family's post box in Ukrainian cities. It gives to its readers explicit information about everything that happens in periodic press and books: new titles, most interesting publishing projects, modern tendencies in newspaper and journal development, fashions fads and tastes of national and foreign readers in choice of literature. It offers a news digest, covering most interesting and actual publications of
leading titles, stacks of periodics by interests and a view more intent at diverse publishing projects, facts, opinions and advises of experts of market of periodic press and books. Newspaper describes in a way alive and fascinating about world of reading, thus forming reader's taste and the habit to read regularly and subscribe to periodic press. Aside that, the title serves as a unique toll of promotion for new services and projects for publishers and agencies, stimulates wide audience of private and corporate clients to more actively consume its services. Also it informs on crucial for business changes in printed publishing market.
Information and services for newspaper readers:
News on press and books;
Info on existing and planned publishing projects;
Regular and thorough information of existing subscription services of "The Press";
Info from agencies and publishers about special offers and own new products;
Digest of most interesting works in Ukrainian press;
News ob subscription campaign;
Entertainment information: everything concerning prose and poetry authors, interesting facts from life of issues and books.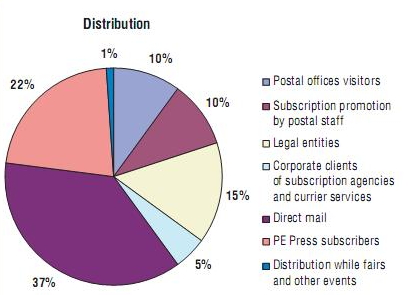 Format: 205x290
Number of pages: 16 pages
Circulation: 1 000 000 copies
Frequency: 6 issues per year
Advertising rates*

Position
Price
1st cover page

22 000
2nd cover page

18 000
3rd cover page

16 000
4th cover page

20 000
Central doublepage

30 000
Doublepage
25 000
3rd page of the newspaper
4 900
4th page of the newspaper
4 900
1/1
12 000
3/4

9 250
1/2

7 000
1/3

5 000
1/4

4 000
1/8

2 000
* $, all taxes included
Rates for «Publishing houses proposals» section*
Position
Price
1/2

4900
1/4

2800
1/8
1400
* $, all taxes included
©2002-2018 Softpress, admin@softpress.kiev.ua